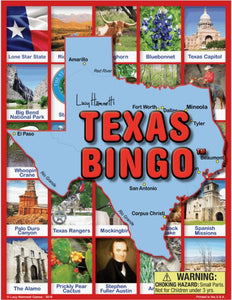 Texas Bingo
Facts about the Lone Star State can be learned while playing Texas Bingo. A few characters are Alamo, Armadillo and Bluebonnet. A creative spin on classic bingo featuring brilliant color photos and informative facts on the back of each calling card.
Suggestions for different ways to "Bingo" are on the back of each game box to add interest to playing the game.
Fun for all - ages 3 and up. Includes 6 player boards,
112 cardstock bingo squares and 42 picture cards with an image on the front and facts on the back.
9" W x 12" H x 1" D • Contains small parts. Not intended for children under 3 years of age.
Made in the USA.